It is Spring. It is time to start getting some really wonderful fresh, locally grown produce
week
after
week
. However, one question remains:
Should you shop at a Farmers' Market, or should you subscribe to a CSA?
First, let's begin with a quick explanation of each for any newbies out there.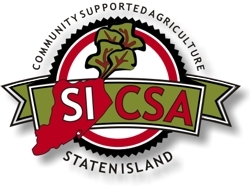 What is a CSA?
Community Supported Agriculture, abbreviated CSA, is a direct relationship between you, the consumer and a farmer. It is called "community supported" because this direct relationship is shared with other members of your local community. At the beginning of the season (or before it begins) you pay a subscription fee to become a "share holder" in the farm for the season. This money helps pay for the costs of running the farm and the farmer him/herself. Each week during the growing season you will receive your share of the crops.
What is a Farmers' Market?
A Farmers' Market is a place where local farmers gather to sell their crops to the public. Depending on the location, availability of farmers and demand some Farmers' Markets can open multiple times a week.
They are usually held in open, public spaces such as parking lots (my closest farmers' market is held in the parking lot of the Staten Island Mall).

What Are The Benefits of Each?
I imagine there are benefits to farmers as well, but as I am not a farmer myself, I will speak only from a consumer point of view in terms of the perceived benefits in supporting either one of these methods for sustaining your healthy habits.
The CSA
is built upon a
close-knit community
of like-minded individuals.
In my local CSA, in addition to the subscription fee you do also have to help out each week with distribution, in other words, do your share. I think this is a fantastic way to build relationships with the people involved, as well as build a greater appreciation for your food.
In terms of what you receive at each pickup, the CSA can build in a sense of adventure in your cooking repertoire. Each box/basket/bag may fluctuate in terms of what they contain, so you can be sure that you will be trying new things throughout the season!
The Farmers' Market
is built upon a
diverse group
of farmers looking to share their goods with as many people as they can.
My Farmers' Market is not as large as the one in Union Square, Manhattan (of course!), but each week there are at least three different produce stands there representing at least three different farms. It is a diverse group - one that focuses heavily on vegetables, one that has fruits (with the added benefit of sharing their baked goods from their bakery) and a stand (or two, depending on the week) frm smaller farms that have cool and interesting finds.
In addition to produce stands, there are occasionally stands sharing meat, poultry or fish products (my local CSA does not offer this, I do not know if others do).
In short, the Farmers' Market offers choices each and every time you visit.
How Do You Decide?
There is a reason why
both
of these methods for obtaining your fresh foods have been increasingly growing in popularity over the last couple of years:
they are both great options!
The decision will have to come down to personal preference and circumstances. Here is a list of some things to consider and actions to take in order to make the right decision for YOU:
Meet with the members and the farmer of the CSA you are considering. This should not be difficult to do, most CSAs have a meeting before the season begins for this exact purpose. You will be spending a season with these people and supporting this farm - Are you a fan of their crops? What do the other share holders have to say about previous years' yields? How often did they have to shop in addition to their share just to make meals? What happens if there is a bad season due to weather, drought, etc.? Are there any other obligations held by share holders beyond the financial commitment?
Check your schedules. Are you available during the times of a CSA pickup? Are you available during the times of your local Farmers' Markets? How long is the season (this is a question for either) - in other words when does all the fresh goodness end?
Are you looking for Certified Organic? If you are, then this may be an issue. You must talk to your farmers - either at the market or from the CSA - many farmers are not "certified organic" for a number of reasons. If this is a non-negotiable for you, then you know this is not for you. However, I would suggest that you engage them in a discussion about why they are not certified. For some farmers it is just about what the certification process costs.
What kind of cook are you? This, I think, could be a real decision maker for some. In a CSA you are giving over control of your weekly produce ingredients to the magical mysteries of "what's in my box??" Most farmers can give you a pretty good idea of what's coming, but it may not be exact. If this idea terrifies you, then a CSA may not be the right idea for you.
Where do you want your money to go? I hope you are always asking yourself this question when buying food, but in this case, it is really a face-to-face exchange. When you become a share holder in a CSA you truly are a part of something - your money is literally part of what is making that farm function. While the same could be said of the money you spend at Farmers' Markets, I personally feel as though a deeper connection is borne of the agreement between a farmer and a share holder.
NOW is the time to decide. CSAs run out of spaces nearly instantly, so if this is something you are considering tonight is the night to have the discussion with your family before the decision is made for you.
Local Harvest
is a fantastic resource to find the CSAs and Farmers' Markets available near you.
Real Time Farms
is also building a database of Farmers' Markets (this site creates an even richer experience than Local Harvest by adding videos, blogs and other "real time" media about each farm - if your market isn't listed there yet, you should contact them!).
Resources
So what's your take - CSA or Farmers' Market?
Do you have an experience that can help us make our decision?