Dorthy used a pail of water in the
Wizard of Oz
to defeat her nemesis, the Wicked Witch, in the famous
Wizard of Oz.
One pail of water took her down and Dorthy was free to explore Oz, find the "magical" wizard, and wake up safely in her home.
The people of our own real-life Oz, Australia, are battling their own evil right now and the tables have somehow turned - it is not a Wicked Witch that plagues these good people, it is, in fact, Dorothy's saving grace - WATER and LOTS OF IT. I have been unable to turn away from the news of this region all week as this horror progresses day by day. I was mortified yesterday to hear the Prime Minister, when addressing the people of Queensland, say that it was only going to get worse. Unbelievable. If you have yet to see it, here is one video that was plastered all over the news yesterday:
And, then last night, after praying and wondering about all of the Australian people I didn't know, I was reminded of the global nature of the Internet. I read the blog post of one of my
BlogFrog
blogging friends,
Crafty Mummy
. I
completely forgot
that she lives in the middle of all that madness! I couldn't just simply watch and pray anymore, I had to do
something.
So this it. My meager attempt at finding help in you.
Taking my lead from Crafty Mummy, here are two ways you can help right now:
Queensland Government Flood Relief Appeal
This website is taking financial donation only at the moment (which makes complete sense to me). They are accepting both local and international donations and list a number of ways of doing so on the site. If you have any money to spare, please consider this worthy cause.
Queensland Flood Appeal Auctions
If you would like to have something to show for your donation, or are a fan of auctions, in general, than you may want to check these out. A number of bloggers are
running auctions
right now
and sending their proceeds to the Flood Relief Appeal above. By clicking on the badge below, you will be taken to the
Make It Perfect
blog which is hosting its
own auction
and, by Monday, January 17th, will be posting a complete list of the bloggers participating in the auction.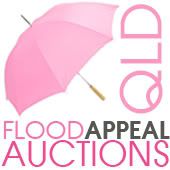 I wish all our Aussies well - be safe, you will be in our prayers.